Accommodations
Hampton Inn Chicago North-Loyola Station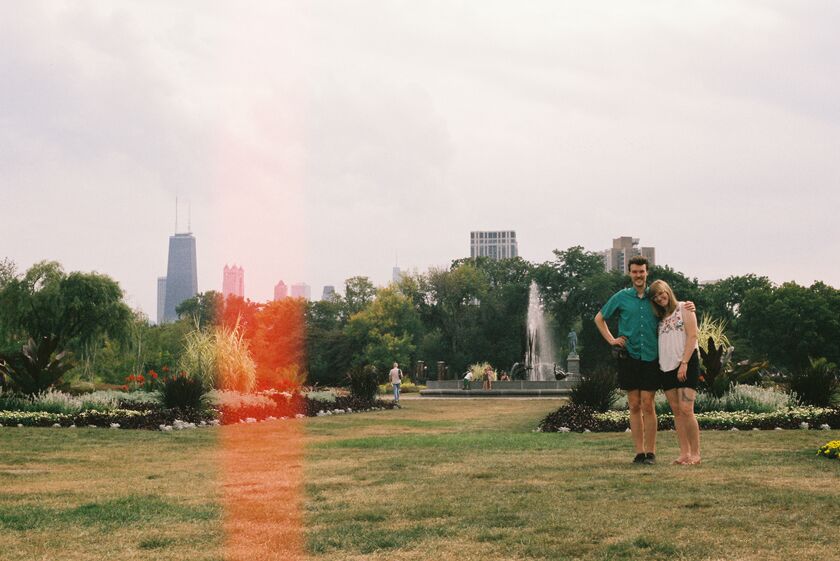 1209 W Albion Ave, Chicago, IL 60626, USA
(312) 265-5800

Our wedding will be taking place in Edgewater, a quiet neighborhood on Chicago's north side. We have a small block of rooms set aside at the Hampton Inn a few blocks from the venue, which features a roof deck with a great view of Lake Michigan! If you're interested in staying here mention the "Rogers Chamberlin Wedding" over the phone or use the group code "RCW".
You can also use this link to go straight to reserving a room within our block: http://group.hamptoninn.com/rogerschamberlinwed
There are also plenty of AirBnBs available in nearby neighborhoods like Edgewater, Andersonville, Uptown, Ravenswood, or Rogers Park. If you don't mind staying a little bit further away from the venue or are planning a mini Chicago vacation we love Logan Square, Bucktown, Wicker Park, and Lincoln Park!
Travel and Transportation
O'Hare International Airport
10000 W O'Hare Ave, Chicago, IL 60666, USA

O'Hare is Chicago's larger airport, so there is a good chance you're flying in here! You can get an Uber into the city from here, or you can take the blue line train downtown (we currently live off the Addison stop!).
Midway International Airport Terminal, South Cicero Avenue, Chicago, IL, USA
If you like to fly Southwest, you'll probably fly into Midway Airport which is on the southwest side of Chicago. You can get an Uber into the city from there, or you can take the orange line (subway) downtown. If you're heading to the hotel from here, transfer to the red line and head north to the Loyola stop. Otherwise, enjoy exploring downtown Chicago!
Loyola
1200 W Loyola Ave, Chicago, IL 60626, USA

Our wedding venue and hotel room block are very close to Loyola University. The Loyola Red Line stop is the nearest CTA subway station to the hotel and venue!
Things to Do
Wrigley Field
1060 W Addison St, Chicago, IL 60613, USA

Home of the Cubs! The Cubs are in town the week after our wedding. If you're planning to stick around you can head over to Wrigley Field to see them play 8/20, 8/21, and 8/22!
Comiskey Park
Lot E - U.S. Cellular Field, Princeton Ave, Chicago, IL 60616, USA

Home of the White Sox! Technically this is called Guaranteed Rate Field now but everyone still knows it as Comiskey Park. If you're more of a Sox fan they're playing in Chicago 8/12, 8/13, and 8/14.
The Art Institute of Chicago
111 S Michigan Ave, Chicago, IL 60603, USA

Our favorite museum in the city!
Millennium Park, Chicago, IL, USA
Home of "The Bean" (a famous Chicago selfie spot). If you're looking for a nice little walk, Lurie Garden is a 3 acre green space within the park. Millennium Park is also right next to the Art Institute and Cultural Center if you're looking for some afternoon activities!
Chicago's First Lady Cruises
112 E Upper Wacker Dr, Chicago, IL 60601, USA

The architecture boat tour will not disappoint!
Chicago Botanic Garden
1000 Lake Cook Rd, Glencoe, IL 60022, USA

If you are driving to Chicago or renting a car while you're here add the Botanic Gardens to your list! A gorgeous place to spend the day.
Lincoln Park Conservatory
2391 N Stockton Dr, Chicago, IL 60614, USA

This small conservatory is right next to the zoo and just a few blocks from Lake Michigan. If you're in Lincoln Park for the day, take a walk through the conservatory - it's free and beautiful!
Garfield Park Conservatory
300 N Central Park Ave, Chicago, IL 60624, USA

Can you tell we like plants? Another favorite of ours is the Garfield Park Conservatory!
North Avenue Beach
North Avenue Beach, Illinois 60614, USA

Chicago in August...bring a bathing suit! North Avenue Beach is one of the most popular summer swim spots in the city.
Logan Square Farmers Market
3107 W Logan Blvd, Chicago, IL 60647, USA

Kyle used to sell kimchi here! If you're staying in or around Logan Square while you're in town this is a great Sunday morning activity.
Places to Eat/Drink
Bang Bang Pie & Biscuits
This is one of our all-time favorite breakfast places! Bang Bang has a location in Logan Square and in Ravenswood so if you're staying nearby, this is a breakfast must.
Pequod's Pizza
This is our favorite Chicago deep dish! You can also try Lou Malnati's and Giordano's which are local deep dish chains.
The Wiener's Circle
Chicago-style hot dogs! Hot dog (vegetarian or beef) in a poppy seed bun topped with yellow mustard, chopped white onions, bright green sweet pickle relish, a dill pickle spear, tomato slices, and pickled sport peppers.
Parson's Chicken & Fish
Because who doesn't want to drink a frozen negroni?
Lost Lake
We are confident this is the best tiki bar you will ever go to.
Cindy's
This is a very popular downtown roof top bar with a great view of the lake and Millennium Park. If you want to go, make a reservation because this is a summer time hot spot!
Half Acre Brewing
Local brewery with great beer.
Lickity Split
Over-the-top retro candy and ice cream shop!
Hopleaf
Gastropub on the main drag in Andersonville - a fun part of town to walk around in.
Green Mill Cocktail Lounge
A Chicago landmark! Rumor has it this jazz club and bar had a network of tunnels under the building for bootlegging alcohol during prohibition.